Wild South Skincare
Regular price
Sale price
$8.95
Unit price
per
Sale
Sold out
Description
Take your signature scent with you everywhere with our luxurious Fragrance Rollers! Each rollerball contains 10 ml of phthalate-free fragrance and organic coconut oil base, creating a luxurious and aromatic experience. Perfect for your purse or pocket, you can now make a lasting impression everywhere you go.
Scent Description
Lights Out - sultry cashmere, tonka bean and soft rosewood on a base of black amber resin. Highlighted with hints of fresh citrus and cedarwood.
Soft Cashmere - A warm, intriguing fragrance that combines sweet cocoa butter with elegant under notes of cedarwood, jasmine, and rich vanilla complete this unique, lovely blend.
Sweet Pea (BBW Type) sweet pea, watery pear, sheer freesia, luscious raspberry and soft musk

Fresh Picked- lilac, honeysuckle, freesia and white musk
Bewitched- (dead sexy type) Deep Vanilla, Exotic Wood, White Orchid & Ebony
Egyptian Musk - myrrh, dragons blood, & patchouli. With floral notes of rose and jasmine.
Cashmere and Sugar - A luxurious and cozy blend of soft cashmere, warm amber and spun sugar with hints of soft jasmine, tea rose and pink peppercorn. 
 Top notes: White Jasmine, Pink Peppercorn, Poppy
Middle notes: Tea Rose Petals, Golden Amber, Soft Cotton
Base notes: Cashmere Musk, Sun-kissed Suede, Spun Sugar
Bermuda Breeze (pink sands type) -  
A soft, exotic fragrance accord of soothing citrus, a medley of tropical fruits and greens with hints of white florals and musk. This fragrance was inspired by the Yankee® scent.
Top notes: Citrus, Melon, Berries

Middle notes: White Jasmine, Osmanthus, Greens
Base notes: White Musk, Coconut, Tonka
Into the Wild- (BBW vanilla woods Type)  
Complex notes of lavender, vanilla, woodsy and musk create this fragrance. This fragrance was inspired by the BBW® scent.
Top notes: Vanilla
Middle notes: Lavender
Base notes: Smokey, Woodsy, Musk
Buy Myself Flowers - The  smell that smacks you in the nose when you walk into the cooler at a flower shop?  Yeah. This is it!  Florals, greenery, earthy, sweet, bouquets. Heavenly!
Top Notes:  Citrus Sparkle, Dewy-Watery
Middle Notes:  Jasmine, Rose, Peony, Lily, Carnation, Plumeria, Baby Breath, Honeysuckle, Tulip
Bottom Notes:  Fir Needle, Leafy Green
Beach Bum- Warm pistachio and coconut cream and a kiss of salted caramel harmonize beautifully with tonka and exotic musks. This fragrance was inspired by the Sol de Janeiro® scent.
Top notes: Coconut Cream, Pistachio 
Middle notes: Tonka Bean, Heliotrope
Base notes: Exotic Vanilla Musk, Sandalwood, Salted Caramel
Black Sea - Succulent plum intertwines with sweet florals and salty oceanic ozone for a bold, rich accord. Notes of vanilla and amber linger in the background to complete this unique fragrance. 
 Top notes: Plum, Sea Salt, Ozone

Middle notes: Floral, Cardamom
Base notes: Vanilla, Amber
Love Potion-  feminine blend of peach and apple blossom atop smooth coconut milk, jasmine and hydrangea blossoms. Completed with a base of light vanilla, white musk and powder. This fragrance was inspired by the Victoria's Secret® scent. 

Top notes: Red Apple Blossom, Peach Nectar 
Middle notes: Jasmine, Hydrangea, Coconut Milk
Base notes: Powder, Lily of the Valley, Vanilla, White Musk
Merlot - dark cherries and tangy black raspberries float in a boozy glass of French merlot wine. Smooth vanilla notes complete this sophisticated blend. This fragrance was inspired by the BBW® scent. 
Top notes: Dark Cherries
Middle notes: Black Raspberry, Currant 
Base notes: Vanilla, Merlot
Woodland Stroll- A delightful aroma of lightly roasted chestnut topped off with hints of leather and fresh rainfall notes. This fragrance was inspired by the BBW® scent.
 Top notes: Roasted Chestnuts
Middle notes: Sea Salt, Fireside
Base notes: Birch, Leather, Gentle Rain
Warm & Cozy - A warm, inviting unisex blend of spicy bergamot, rich mahogany wood, and soft musk. This fragrance was inspired by the BBW® scent.
 Top notes: Bergamot, Warm Spice
Middle notes: Heirloom Mahogany, Jasmine
Base notes: Soft Musk, Woods, Sweet Vanilla
Tuscany- fruity, yet earthy and fresh at the same time! Soothing spa scent
Top Notes:  Peach, Pineapple, Fig, Orange, Melon
Middle Notes:  Fig, Jasmine, Violet, Buchu Leaves, Plum, Green Olive
Bottom Notes:  Vanilla, Coconut, Musk
Uptown Lemon- Dupe for Maison Margiela Under the Lemon Tree. This fresh, green fragrance combines fresh lemon with green leaves and soft breezes. 

Kalamansi lime, green tea, citrus, and soft musk. A fresh, green lemon fragrance
Cognac and Pralines- Dupe for  Kilian Angels' Share
A sophisticated gourmand that will please spirit and sweet lovers alike. Contains notes of Cognac, cinnamon, hazelnut, vanilla, praline, oak wood. 
Warm Hugs- Dupe of  Blanche Bete by Liquides Imaginaires.
A soft, milky fragrance that is as comforting as a fuzzy angora sweater. Notes of Ambrette, Milk, Tuberose, Incense, Tonka Bean, Cocoa, Vanilla Bean, Musk. 
Burning for You -
Glowing embers of charred wood, subtly smoky and woody. Notes of labdanum, patchouli, charred birchwood and forest 
Share
View full details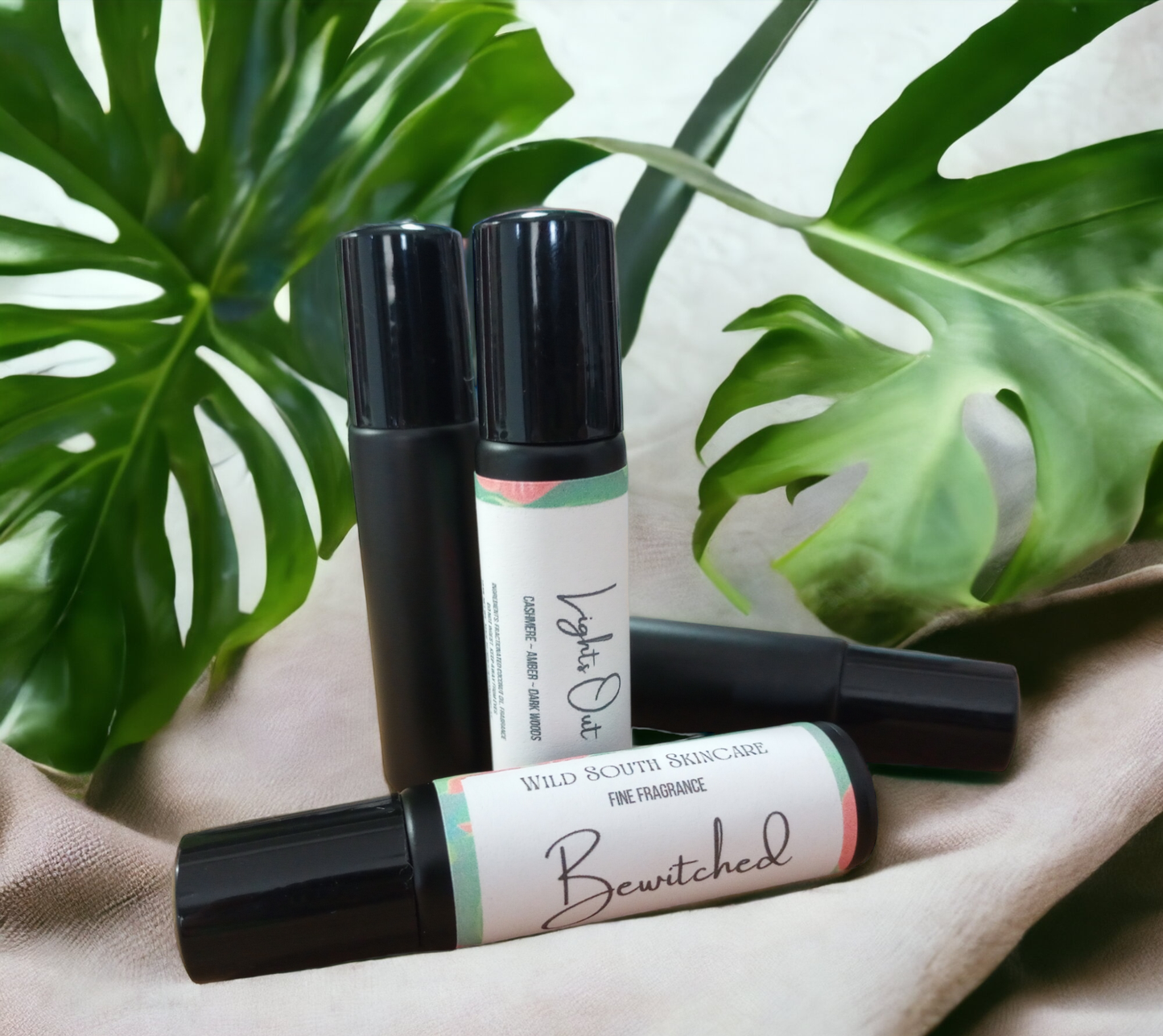 Customer Reviews
08/26/2023
Sarah W.

United States
Perfect for my purse
This is the perfect size to carry with you to touch up your scent throughout the day.