Wild South Skincare
Regular price
Sale price
$3.25
Unit price
per
Sale
Sold out
Description
This soy-based wax blend is made to have superior scent retention. Snap bars make it easy to decide how much you want to melt!
One bar = almost 2 oz of wax (or three of our old tart shapes)
Made with Phthalate free high quality fragrances. 
Remember if you don't see your favorite scent you can request it!
Scent Descriptions
Christmas Fig - subtle plum, musk and woodsy notes, produce a scent that will remind you of the beauty of the harvest season.
Top notes: Sun-Ripened Fig, Lemon Peel, Ginger Root

Middle notes: Black Plum, Balsam Pine
Base notes: Autumn Leaves, Dark Patchouli, Cedar, White Musk
Jolly Wassail - warm notes of orange, cinnamon, clove, and a hint of nutmeg. Perfect for creating a joyful, seasonal atmosphere!
Top notes: Orange Peel, Snapped Cinnamon, Citrus Burst

Middle notes: Red Currant, Warm Cider, Pomegranate
Base notes: Cranberry Wine, Aged Cedar
Fall Leaves - Sweet leaf greens, fresh pines, dewy spiced florals, and earthen musk combine with spiced apples to create this scent. This fragrance was inspired by the BBW® scent.
Top notes: Green Stem, Lemon, Cedar Leaf
Middle notes: Pine, Spiced Apple, Floral Mélange
Base notes: Earthy Musk
Buy Myself Flowers - The  smell that smacks you in the nose when you walk into the cooler at a flower shop?  Yeah. This is it!  Florals, greenery, earthy, sweet, bouquets. Heavenly!
Top Notes:  Citrus Sparkle, Dewy-Watery
Middle Notes:  Jasmine, Rose, Peony, Lily, Carnation, Plumeria, Baby Breath, Honeysuckle, Tulip
Bottom Notes:  Fir Needle, Leafy Green
Beach Bum- Warm pistachio and coconut cream and a kiss of salted caramel harmonize beautifully with tonka and exotic musks. This fragrance was inspired by the Sol de Janeiro® scent.
Top notes: Coconut Cream, Pistachio 
Middle notes: Tonka Bean, Heliotrope
Base notes: Exotic Vanilla Musk, Sandalwood, Salted Caramel
Black Sea - Succulent plum intertwines with sweet florals and salty oceanic ozone for a bold, rich accord. Notes of vanilla and amber linger in the background to complete this unique fragrance. 
 Top notes: Plum, Sea Salt, Ozone

Middle notes: Floral, Cardamom
Base notes: Vanilla, Amber
Peppermint Shake - bold peppermint combined with subtle hints of chocolate and sugared milk make for a smooth, creamy accord. Guaranteed to bring holiday cheer wherever you go!
Top notes: Fresh Mint, Dark Chocolate

Middle notes: Milk Chocolate, Frothed Sugar Milk
Base notes: Sweet Peppermint, Vanilla
Mulberries - blend of sparkling fresh mulberries, sweet pomegranate and soft pine. Highlighted with hints of eucalyptus, rose petals, and amber.
 Top notes: Sparkling Mulberry, Pomegranate
Middle notes: Pink Rose Petals, Eucalyptus Leaves
Base notes: Sweet Pine, Raspberry Vanilla, White Amber
Love Potion-  feminine blend of peach and apple blossom atop smooth coconut milk, jasmine and hydrangea blossoms. Completed with a base of light vanilla, white musk and powder. This fragrance was inspired by the Victoria's Secret® scent. 
Top notes: Red Apple Blossom, Peach Nectar 
Middle notes: Jasmine, Hydrangea, Coconut Milk
Base notes: Powder, Lily of the Valley, Vanilla, White Musk
Grandpas Pipe - Ancient tobacco, cherry, and a touch of vanilla linger in the air around me. So comforting, my grandfather's world. 
T: Smoky Embers, Almond, Cherry

M: Dried Tobacco Leaf, Warm Woods

B: Warm Vanilla, Patchouli
Merlot - dark cherries and tangy black raspberries float in a boozy glass of French merlot wine. Smooth vanilla notes complete this sophisticated blend. This fragrance was inspired by the BBW® scent. 
Top notes: Dark Cherries
Middle notes: Black Raspberry, Currant 
Base notes: Vanilla, Merlot
Woodland Stroll- A delightful aroma of lightly roasted chestnut topped off with hints of leather and fresh rainfall notes. This fragrance was inspired by the BBW® scent.
 Top notes: Roasted Chestnuts
Middle notes: Sea Salt, Fireside
Base notes: Birch, Leather, Gentle Rain
Warm & Cozy - A warm, inviting unisex blend of spicy bergamot, rich mahogany wood, and soft musk. This fragrance was inspired by the BBW® scent.
 Top notes: Bergamot, Warm Spice
Middle notes: Heirloom Mahogany, Jasmine
Base notes: Soft Musk, Woods, Sweet Vanilla
Tuscany- fruity, yet earthy and fresh at the same time! Soothing spa scent
Top Notes:  Peach, Pineapple, Fig, Orange, Melon
Middle Notes:  Fig, Jasmine, Violet, Buchu Leaves, Plum, Green Olive
Bottom Notes:  Vanilla, Coconut, Musk
Share
View full details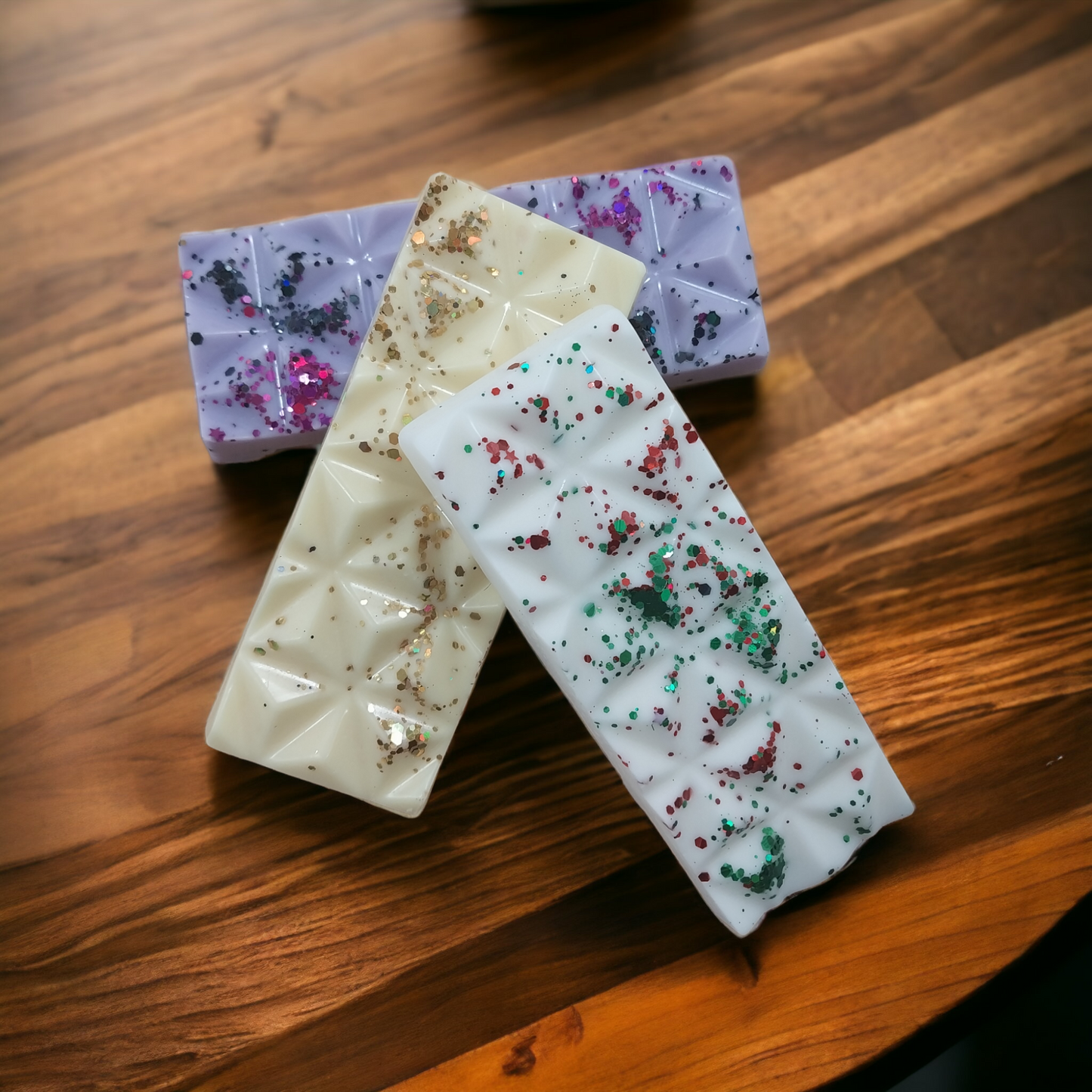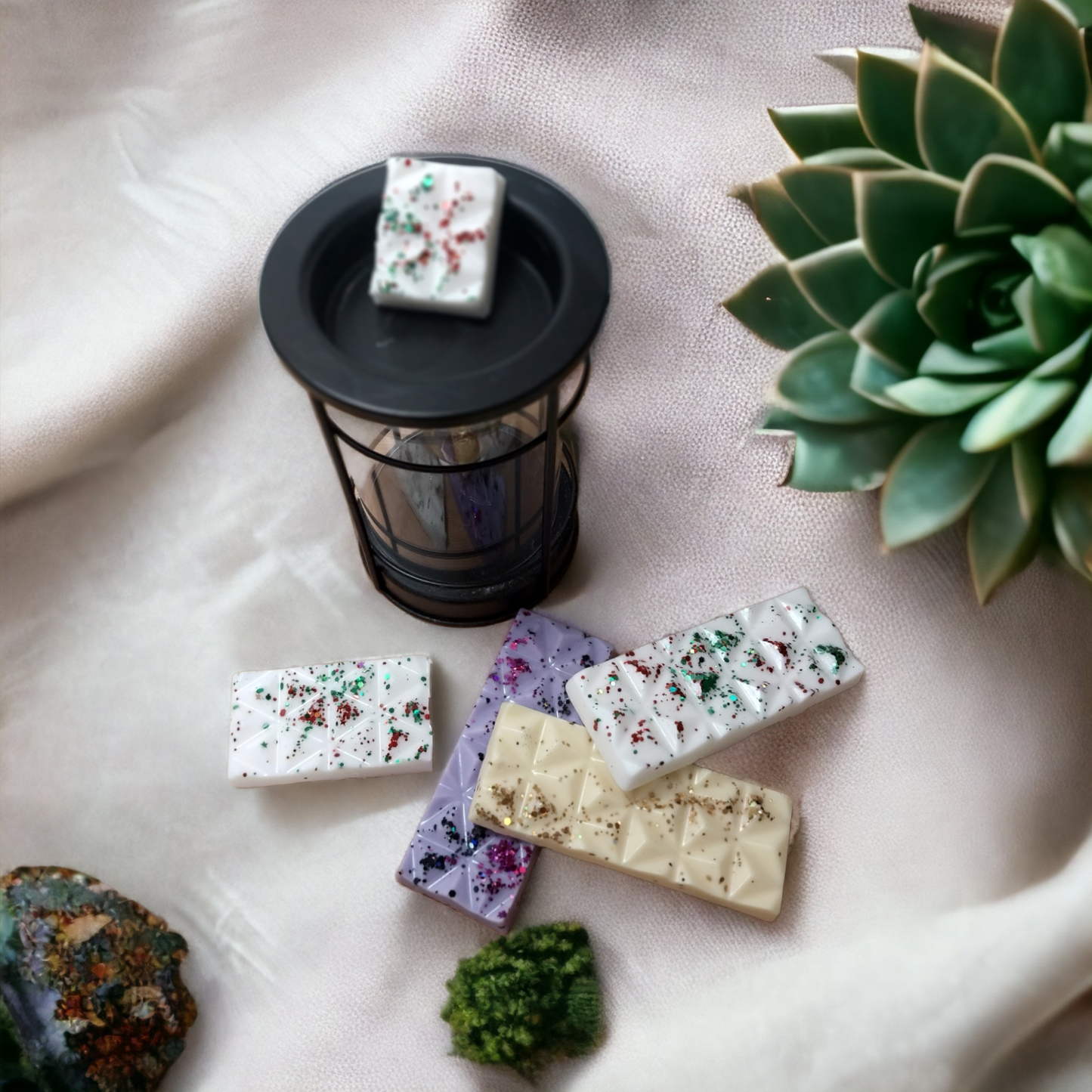 Customer Reviews
08/26/2023
Sarah W.

United States
Must have
My new Snickerdoodle waz snap bar has my house smelling like fresh baked cookies.