Wild South Skincare
Regular price
Sale price
$10.95
Unit price
per
Sale
Sold out
Description
New Vegan Formula!
Many of us neglect to take care of our cuticles until it is too late, likely due to the fact that most cuticle oils are excessively greasy and hard to use. Super Stick changes this with an easy-to-apply solution that helps alleviate the discomfort of dry, cracked cuticles.
Our Super Stick cuticle treatment comes in an eco-friendly 0.3 oz cardboard dispenser for easy product application with one push. Its balm is specially formulated with a more solid butter for mess-free use and less product waste.
Ingredients
organic, gently refined Kokum butter, organic, Illipe butter, organic unrefined Cupuacu butter, organic Cocoa butter, Organic Jojoba oil, organic, Vitamin E oil, organic Chia seed oil, organic meadowfoam oil, fragrance or essential oil.
Scent Descriptions
EO= Essential oil
FO= Fragrance oil
Summer Nights(EO)-  Exotic Sweet Orange, with Jasmine, ylang ylang and  Bergamot, a "not floral" floral
CocoLoco (FO) - Fresh  coconut cream
 Double Espresso(EO)- Pure Coffee Bean
I Want Candy(EO)- sweet pink grapefruit jasmine and vanilla make you crave pink candy
Zest for Life(EO)- Give me all the citrus! Orange lime tangerine and lemon
5 O clock Somewhere(EO) Lime Margarita
Lemon Cake(EO)- Zesty lemon and warm vanilla
Lavender Vanilla(EO) - Soothing lavender and vanilla
Goddess (EO/FO) Seductive white musk blends with amber, myrrh and sandalwood
Sangria Spice (EO) dark fruit, nutmeg and spice with a hint of booze
Soft Cashmere (FO) Unisex- warm cocoa butter and cashmere with sweet milk
Toasted Marshmallow (BBW type)- smoky vanilla with sweet marshmallow notes
Milk n Honey(FO) classic unisex scent of warm milk and honey , no almond notes
Mystic Cherry (EO/FO) Black cherry  apples merlot grounded by charred oak, amber and cedar
Spearmint (EO)Unisex-  The Freshmaker
Laundry Day (FO)Unisex-  Fresh sun baked linens

Exotic Musk (FO)- myrrh dragons blood patchouli with floral notes of rose and jasmine On a base of woodsy musk.
Lemon Mint(EO) - Lemon and Spearmint
Cherry Blossom (FO) white lily Asian pear warm vanilla violet mimosa petals white jasmine sandalwood and cherry blossoms
White Tea (FO)  Unisex - tea leaves soft white flowers and hints of apricot
Pink Prosecco (FO) Sparkling champagne juicy berries and tangerine
Lilac Breeze (FO) soft vanilla wraps around French lilac petals
Night Out -(EO/FO) Raspberry and Chocolate anchored by soft musk  amber and sandalwood

Papaya & Coconut (FO) - light and tropical papaya is grounded by creamy coconut
Passionfruit White Tea (FO)- sweet and tart passionfruit with a hint of herbal white tea
Sweet Pea (BBW type)  (FO)-  sweet pea watery pear and luscious raspberry
Cotton Candy (FO)- summer carnival classic spun sugar
Tuscany (FO)  

Top Notes:  Peach, Pineapple, Fig, Orange, Melon
Middle Notes:  Fig, Jasmine, Violet, Buchu Leaves, Plum, Green Olive
Bottom Notes:  Vanilla, Coconut, Musk
Buy myself Flowers (FO) 
Top Notes:  Citrus Sparkle, Dewy-Watery
Middle Notes:  Jasmine, Rose, Peony, Lily, Carnation, Plumeria, Baby Breath, Honeysuckle, Tulip
Bottom Notes:  Fir Needle, Leafy Green
Royal Vanilla (FO) deep rich vanilla, buttery and grown up
Cashmere and Sugar- 
Top notes: White Jasmine, Pink Peppercorn, Poppy
Middle notes: Tea Rose Petals, Golden Amber, Soft Cotton
Base notes: Cashmere Musk, Sun-kissed Suede, Spun Sugar
Into the Wild (FO)

Top notes: Vanilla
Middle notes: Lavender
Base notes: Smokey, Woodsy, Musk
Bermuda Breeze (FO) 
Top notes: Citrus, Melon, Berries

Middle notes: White Jasmine, Osmanthus, Greens
Base notes: White Musk, Coconut, Tonka
Endless Summer (FO)  warm beach notes, surf wax, soft cocoa butter, like the best beach memories
Strawberry Rhubarb (FO) - tart green rhubarb blends with fruity floral strawberry, very fresh and only slightly sweet
 White chocolate Raspberry (FO) rich vanilla, white chocolate and a hint of raspberry
Burning for You (FO) -  Glowing embers of charred wood, subtly smoky and woody.
Notes of labdanum, patchouli, charred birchwood and forest 
Earl Grey (FO)- notes of bergamot, lemon, violet leaf, black tea, rose hips, sheer jasmine, white musk.
Cosmic Berry (FO) 
Top notes: Beauty Berry, Apple Peel, Blackberry Jam, Lemon Zest
Middle notes: Shaved Coconut, Sweet Raspberry, White Jasmine
Base notes: Sugared Musk, White Amber
Loopy (FO)
Top notes: Lemon, Lime, Citrus
Middle notes: Cereal, Milk, Orange
Base notes: Vanilla, Sandalwood
Tea & Scrumpets (FO) 
Black Tea steeped with juicy orange and served with bakery fresh crumpets.
Top note:  Orange Zest, Ginger Root, Tangerine

Mid note: Black Tea, Cinnamon, Clove, Nutmeg

Base note: Raspberry Sugar, Tonka, Toasted Bread
Country Store (FO)-  like walking back in time into the old general store. spices and dried apples with warm woods
Pumpkin Latte (FO) 
Top note: Orange Zest, Brown Butter, Toasted Macadamia Nut, Fresh Brewed Coffee

Mid note: Cinnamon, Clove, Grated Ginger, Nutmeg, Cooked Pumpkin

Base note: Powdered Sugar, Brown Sugar, Vanilla Bean
Chai (FO)
Top note: Nutty, Buttery
Mid note: Cumin, Cardamom, Star Anise, Cinnamon, Clove, Cherry, Coconut, Nutmeg
Base note: Milk, Honey, Maple, Vanilla
Caramel apple (FO) sweet favorite of juicy apple, sweet caramel, a hint of cinnamon and topped with brown sugar
Cardamom & Cream (FO)
Top: Cinnamon, peppercorn
Middle: cream, black cardamom, ginger
Base: Tonka bean, chestnut, wood
Top : Dark Chocolate
Mid:  Suede, Cedarwood
Base: Patchouli, Sandalwood, Amber, Musk
Share
View full details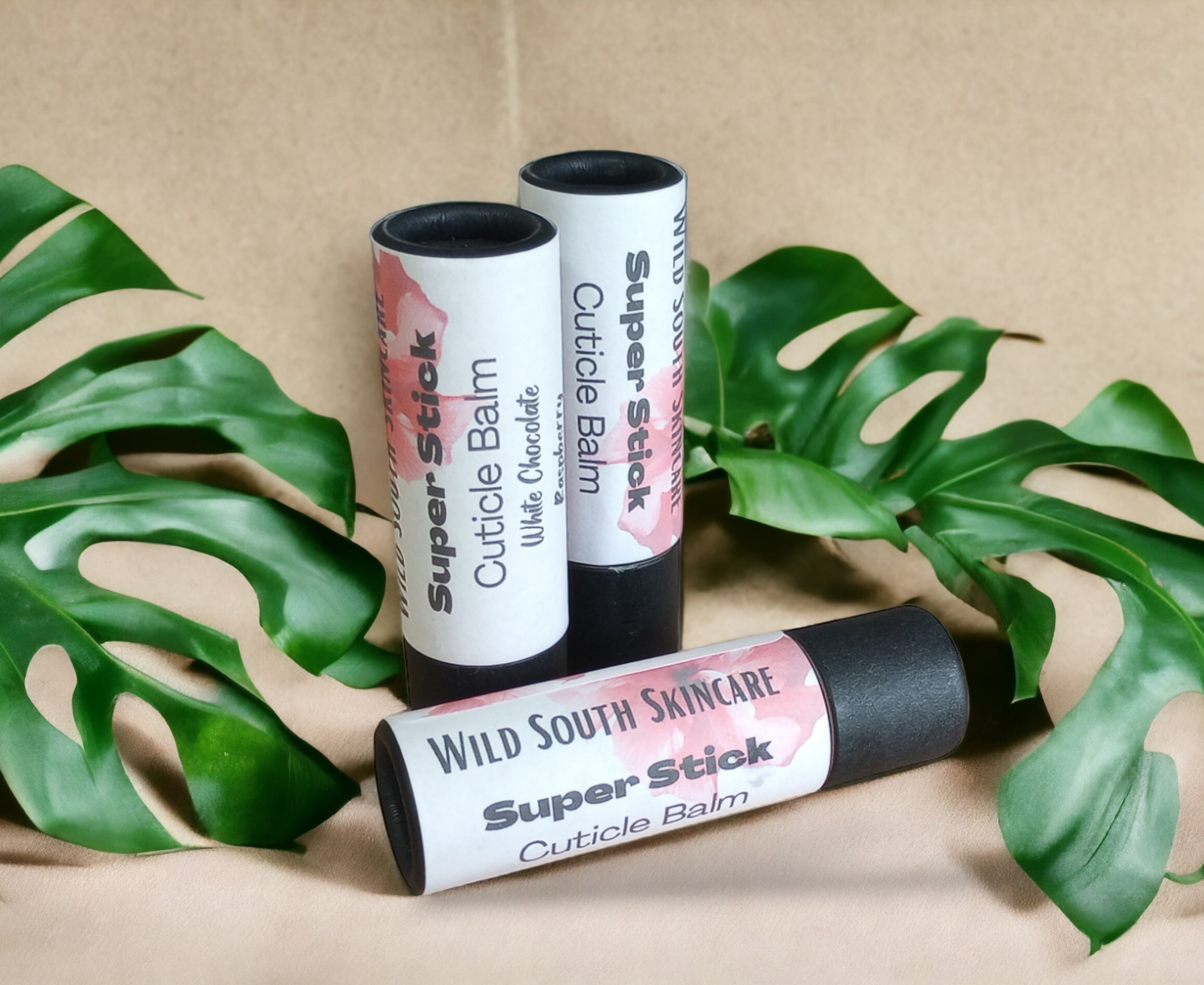 Customer Reviews
03/02/2023
Jossie K.

United States
Super Stick
Blueberry Lavender Chamomile may be my new favorite scent. Best thing for my nails after a mani
12/26/2022
Sarah W.

United States
Melts into your skin
I loved this product. It melted right into my skin and didn't leave it feeling oily. Oh amd the smell was amazing also. Definitely will be purchasing more.
05/23/2022
Nails_by_Julez_P

United States
Amazing
I love this stuff! 5 o'clock somewhere has me smelling like a margarita all day, and zest of life has me smelling like a lemonade all day. Bonus is my cuticles have never looked better.